Gold Standard 100% Whey is one of the best selling protein supplements accross the worldwide sports nutrition market, and with good reason. This quality whey protein isolate delivers fast absorbing, quality amino acids to your muscles. The quality blend offered, combined with the delicious flavour profiles are the reason why the world quite litterally loves this protein supplement.
Optimum Nutrition's fantastic Gold Standard Whey provides everything you need to kick start the muscle repair process after an intense workout. This premium quality blend contains microfiltered whey protein isolates, ion-exchance whey protein isolates, ultrafiltered whey protein concentrates and hydrolyzed whey peptides to provide a generous 24g of pure muscle building protein per serve. This rapidly absorbing, low fat and carbohydrate supplement is perfect to help promote increased muscle gains, or muscle maintenance.
Features :
•Microfiltered whey protein isolates
•Ion-exchange whey protein isolates
•Ultrafiltered whey protein concentrate
•Hydrowhey hydrolyzed whey peptides (faster absorbing)
Further to the impressive amino acid profile, Gold Standard Whey removes the need to purchase additional supplements thanks to including 4g of Glutamine and over 5g of Branched Chain Amino Acids (BCAA's) per serve. Branched Chain Amino Acids are renowned within the training community for their ability to help promote increases in lean muscle tissue as well as preserve muscle mass during fat loss "cutting phases" in your program.
Gold Standard is fully instantised to allow for easy mixing, enhancing your experience as you enjoy the taste and consistency of this smooth, well flavoured product.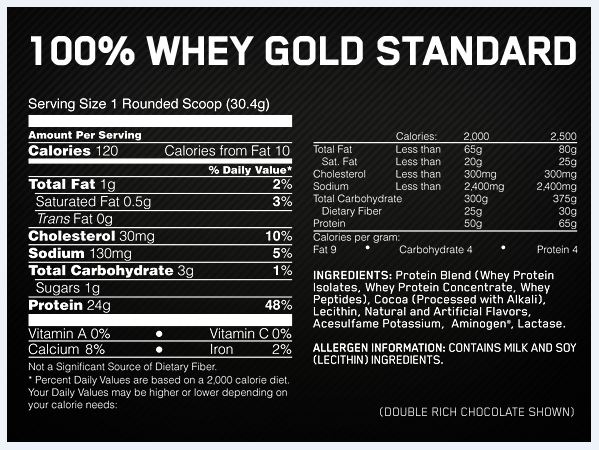 Pro Supplements Ltd offers extremely reliable, Fast and Free shipping in New Zealand via CourierPost & Australia via NZPost We will forward you your unique tracking number once your order has been processed so you can track your order every step of the way.
Courier pickup times are Monday - Friday.
New Zealand Shipping Estimates (Within Business Days):
Auckland & Surrounds: Within 24 Hours
North Island: Overnight
South Island: 2 to 3 days
Damaged Goods/Lost Items
In the event that you receive faulty or damaged goods and require a refund, please contact us with your claim and we will endeavour to either replace the product(s) or provide you with a refund. Claims must be received within 7 days of receipt of goods.
if your order is worth a large amount of money, we recommend choosing the 'signature required' courier option as when selecting No Signature Required (I.E Leave at Door if not home) You accept all responsibility for missing parcels within reason.