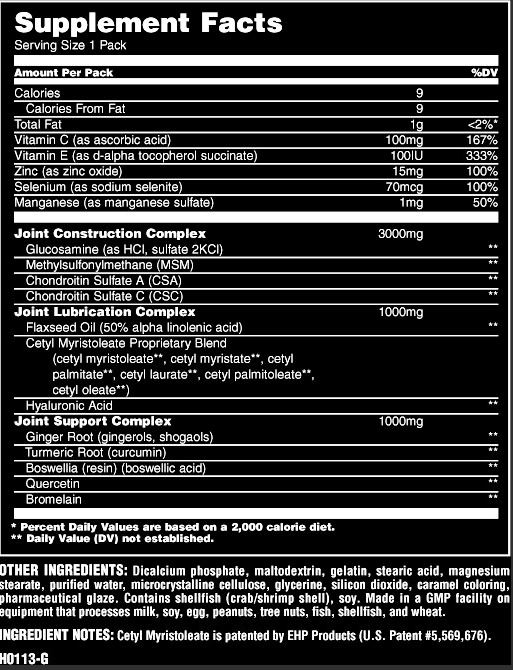 Universal Animal Flex is designed as a core or "foundational" supplement, and contains required nutrients that your body needs on a daily basis in order to protect your joints from the over use and abuse that comes from heavy lifting. Flex can be taken year round without cycling off. It can be stacked with the other Animal supplements.
To help protect your joints from the daily wear and tear brought about by heavy lifting
Loaded with efficacious dosages of Glucosamine, Chondroitin, MSM, CMO and Hyaluronic Acid
Powerful once daily formula conveniently pre-dosed in a single pack
Supplemental insurance against inevitable weight training joint and ligament damage
Animal Flex, like other Animal supplements, is complete and comprehensive. Each pack of Animal Flex consists of several key protective complexes: 
Joint construction complex to help support connective tissue; 

Lubrication compound to help cushion the joints from lifting;

Support complex to help promote recovery

Essential vitamin/mineral blend to underscore optimal joint health
Pro Supplements Ltd offers extremely reliable, Fast and Free shipping in New Zealand via CourierPost & Australia via NZPost We will forward you your unique tracking number once your order has been processed so you can track your order every step of the way.
Courier pickup times are Monday - Friday.
New Zealand Shipping Estimates (Within Business Days):
Auckland & Surrounds: Within 24 Hours
North Island: Overnight
South Island: 2 to 3 days
Damaged Goods/Lost Items
In the event that you receive faulty or damaged goods and require a refund, please contact us with your claim and we will endeavour to either replace the product(s) or provide you with a refund. Claims must be received within 7 days of receipt of goods.
if your order is worth a large amount of money, we recommend choosing the 'signature required' courier option as when selecting No Signature Required (I.E Leave at Door if not home) You accept all responsibility for missing parcels within reason.